Cinnamon Bark
Page 1 of 2
Next
The Health Benefits Cinnamon - Cinnamon Has Huge Impact on Cholesterol and Blood Sugar Control!
Who would suspect that such an easily attainable spice could posses such powerful medicinal properties? Although typically used for cooking and baking, the health benefits of cinnamon to diabetes are substantial. For example, just half a teaspoon of cinnamon a day significantly reduces blood sugar levels in diabetics, a new study has found, and cinnamon is so easy to use.

Use By: Taken as a capsule, or, to get the great cinnamon taste, open the capsule and sprinkle on your toast, in you oatmeal, on your cereal or.....

This is pure cinnamon, just like everyone uses for baking with one exception. This is in capsule form at the proper dose for it's intended use. The astounding health benefits of cinnamon to diabetes, which can be produced even by soaking a cinnamon stick in your tea, can also benefit millions of non-diabetics who have blood sugar problems but are unaware of it. The discovery was initially made by accident, by Richard Anderson at the US Department of Agriculture's Human Nutrition Research Center in Beltsville, Maryland.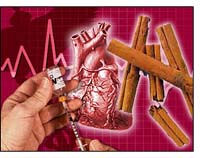 Cinnamon is a popular spice used in cooking. Cinnamon also is found in small amounts in many toothpastes, mouthwashes, gargles, lotions, liniments, soaps, detergents, and other products. It is probably the warming/stimulating, anti-microbial, and cleansing/refreshing properties of cinnamon that make it such an important component of these types of products.

Cinnamon is actually the dried tree bark from young branches, separated from the cork and outer rind. The tree is widely cultivated and the harvested bark is dried in the shade. Cinnamon and Cinnamon essential oil usually come from the bark of the Cinnamon tree called Cinnamomum verum. Sometimes an essential oil is made from the leaf of the tree. This oil is not as potent or as powerful. The leaves smell like cloves and the flowers actually have an unpleasant odor.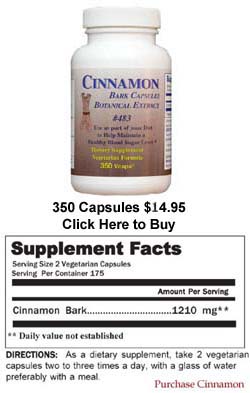 Cinnamon is indigenous to Srilanka and southwest India.

The chief components of the volitle oil of the cinnamon bark are cinnaaldehyde, weiterhin eugenol, cinnamylacetate, cinnaml alcohol, o-methoxycinnamaldehyde, cinnamic acid. There are also diterpenes: cinnzeylanol, and cinnzeylanin and Oligomeric proanthocyanidins and mucilages in the bark as well. The essential oils are removed from the bark by steam distillation.

Cinnamon Is Lethal Weapon Against E. Coli O157:H7
When cinnamon is in, Escherichia coli O157:H7 is out. That's what researchers at Kansas State University discovered in laboratory tests with cinnamon and apple juice heavily tainted with the bacteria. Presented at the Institute of Food Technologists' 1999 Annual Meeting in Chicago on July 27, the study findings revealed that cinnamon is a lethal weapon against E. coli O157:H7 and may be able to help control it in unpasteurized juices. Cinnamon and E. Coli Story

"If cinnamon can knock out E. coli O157:H7, one of the most virulent foodborne microorganisms that exists today, it will certainly have antimicrobial effects on other common foodborne bacteria, such as Salmonella and Campylobacter," noted Daniel Y.C. Fung, Ph.D., professor of Food Science in the Department of Animal Sciences and Industry at K-State, who oversaw the research.

And let me say again, Cinnamon is so easy to use!
The capsules from Wonder Laboratories (which I use) are in capsule form at the proper dose for it's intended use. Wonderful on oatmeal, try it!

Other Reasons People Use This Herb:
---
Next