Horny Goat Weed
Page 1 of 1


What Is Horny Goat Weed?





It is a general herb prescribed mainly for its aphrodisiac properties. Scientific studies have confirmed that the herb is a direct stimulant to semen production and sexual drive in males. Viagra™ has been a world-wide sensation but not in China. The Chinese believe they have something better -- a herb called Yin Yang Huo, or

"horny goat weed". This remarkable herb seems custom-made by nature for the flagging male and female libido, especially when combined with certain other herbs. Specifically, Yin Yang Huo has been shown to stimulate the supra renal glands, and triggers increased hormonal secretions. Research has shown that male sperm count and semen density increase substantially.

Yin Yang Huo also expands the circulatory system's blood vessels, while allowing hormone-enriched blood to penetrate sensitive tissues. The Chinese claim this eliminates tiredness and increases energy--while nervous stimulation is boosted as the brain is flooded with hormone-rich blood. But how did this herb get its name," It seems that hundreds of years ago, a goat-herder noticed his male goats were especially randy, mounting their mates several times during a brief period. Curious, the young man observed the animals carefully. He noticed that whenever they ate from a certain patch of weeds, their promiscuous behavior became more pronounced several hours afterwards. One thing led to another… and the rest is history. So the legend goes. And why not? Local anecdotal evidence has been the basis for most herbal discoveries.
How Does Horny Goat Weed Work?

Sexual arousal is linked to the cholinergic neurotransmitter activity. However, an enzyme called acetylcholinesterase (AChE) can inactivate these neurotransmitters, leading to sexual dysfunction. This preparation can inhibit AChE, which may support higher levels of the key cholinergic neurotransmitters associated with sexual arousal. The result? Restored sexual function and a more active libido.

Also included in this premium formula is the fern Polypodium vulgare, which contains a group of substances called ecdysteroids which can stimulate protein synthesis in mice by increasing the activity of polyribosomes. Ecdysteroids have androgen-like and anabolic action. The androgen-like anabolic action may cause Polypodium vulgare to actively support the contractile activity of erectile proteins associated with sexual activity.

Pinnacle has created this unique combination of Horny Goat Weed, Maca Pure, Macuna pruriens, and Polypodium vulgare to help support libido and sexual activity Plus it's an all-natural energizer that can contribute to a more robust and satisfying love life.
Where Can I Get This Wonderful Aphrodisiac?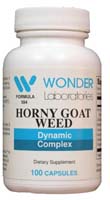 I recommend Wonder Laboratories for the overall best quality and price when considering vitamins, herbs and supplements.
---