Lactose Intolerance
Page 1 of 5
Next
Lactose Intolerance
Lactose Intolerance Introduction
Lactose intolerance is the inability to digest significant amounts of lactose, the major sugar found in milk. Lactose intolerance is caused by a shortage of the enzyme lactase, which is produced by the cells that line the small intestine. Lactase breaks down milk sugar into two simpler forms of sugar called glucose and galactose, which are then absorbed into the bloodstream. Not all people deficient in lactase have the symptoms commonly associated with lactose intolerance, but those who do are said to have lactose intolerance.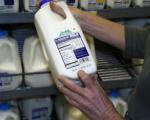 People sometimes confuse lactose intolerance with cow's milk intolerance because the symptoms are often the same. However, lactose intolerance and cow's milk intolerance are not related. Being intolerant to cow's milk is an allergic reaction triggered by the immune system. Lactose intolerance is a problem caused by the digestive system.
If you have a problem called "lactose intolerance," you may have trouble drinking regular milk. This is because some of the milk sugar "lactose" may not be digested due to a deficiency of the enzyme, lactase. This may result in excess gas, diarrhea, and nausea after drinking milk.
Cheese, yogurt, and buttermilk may not cause this problem since much of the "lactose" has already been broken down. Also, you may be able to drink smaller amounts of milk at one time (1 cup or less) without symptoms. Lactaid tablets (from a drug store) can be added to milk to reduce the lactose.

Lactose intolerance to cow's milk in infants is fairly common. Cow milk intolerance in the very young infant is an inflammation of the digestive tract leading to various symptoms from mild rashes to vomiting, diarrhea, and ultimately bloody stools. Babies intolerant of cow milk may be very uncomfortable and cry excessively, mimicing true colic. Other symptoms related to the respiratory tract such as nasal congestion or wheezy breathing can occur less frequently.

Even though lactose intolerance is common, it is not a threat to good health. People who have trouble digesting lactose can learn which dairy products and other foods they can eat without discomfort and which ones they should avoid.
In This Article:
What are the symptoms of lactose intolerance?
How is lactose intolerance diagnosed?
What causes lactose intolerance?
Who is at risk for lactose intolerance?
How is lactose intolerance treated?
How is nutrition balanced?
What is hidden lactose?
Summary
For More Information
What are the Symptoms of Lactose Intolerance?
---
Next