Milk Thistle
Page 1 of 1


Milk Thistle

The botanical name for milk thistle is Silybum marianum (L.) Gaertn. Milk thistle is also referred to as holy thistle, Marian thistle, Mary thistle, Our Lady's thistle, St. Mary thistle, wild artichoke, Mariendistel (German), and Chardon-Marie (French). The plant is indigenous to Europe but can also be found in the United States and South America.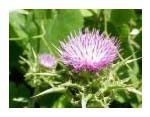 Traditionally, the leaves have been used in salads, and the fruit of the flower has been roasted as a coffee substitute. The seeds of milk thistle are the medicinal parts of the plant. The primary active constituent of milk thistle is silymarin, which is composed of 4 isomers: silibinin, isosilybinin, silychristin, and silydianin. Silibinin is the most active of these 4 isomers, and most supplements are standardized according to their silibinin content. Special formulations of silibinin have been developed to enhance the bioavailability of the herbal product; these forms are sold under the names Legalon, silipide, and Siliphos. Because of milk thistle's lipophilic nature, it is usually administered in capsule or tablet form rather than as an herbal tea. In Europe, silibinin is administered intravenously as the only effective antidote for Amanita phalloides (Fr.) Link toxin. Humans exposed to this mushroom toxin develop serious liver failure that ultimately progresses to death.
Buy Milk Thistle from Wonder Laboratories
Liver Treatment
This herb is wonderful and appropriate for anyone who is under stress, uses alcohol, recreational drugs, prescription medications, or lives in today's modern times of pesticides, environmental toxins, and pollution? Virtually every person in an industrial nation.

Milk Thistle has been found to be an effective in the treatment of Liver Disease. It helps lower enzyme levels and facilitates the liver in its process of detoxifying the body. Among all known herbal remedies, Milk Thistle finds its place as the leader in herbs to treat liver problems. Physicians have prescribed Milk Thistle for Hepatitis to keep down inflammation, Cirrhosis to soften the liver, Liver Cancer to aid in detoxification, and many dysfunctions of the Gall Bladder System. It also helps protect the liver for those individuals that are taking prescription medications known to elevate liver enzymes.
Several companies distribute milk thistle as a dietary supplement. In the United States, dietary supplements are regulated as foods, not drugs. Therefore, premarket evaluation and approval by the Food and Drug Administration (FDA) are not required unless specific disease prevention or treatment claims are made. Because dietary supplements are not formally reviewed for manufacturing consistency, ingredients may vary considerably from lot to lot; in addition, there is no guarantee that ingredients identified on product labels are present at all or are present in the specified amounts. It is important to note that the FDA has not approved the use of Milk Thistle as a treatment for cancer patients or patients with any other medical condition.

To conduct clinical drug research in the United States, researchers must file an Investigational New Drug (IND) application with the FDA. The IND application process is confidential, and IND information can be disclosed only by the applicants. To date, only 1 investigator has announced holding an IND to study milk thistle as an adjunct cancer treatment.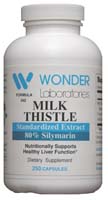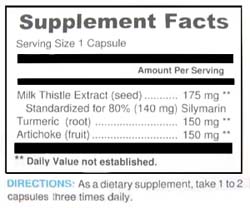 Despite milk thistle's long history of being used to treat liver and biliary complaints, it was not until 1968 that silymarin was isolated from the seeds of the plant and it was proposed that silymarin might be the active ingredient. Silymarin was later determined to be a flavonoid that is composed of 4 structurally similar compounds: silibinin, isosilibinin, silydianin, and silychristin. Researchers have investigated the role that silibinin may play in the treatment of hepatitis and cirrhosis. Most studies have investigated the isolated compound silymarin or its most active isomer silibinin, rather than the herbal plant in its whole form.

Silymarin is most well known for its purported effects on the liver. In laboratory studies, silymarin has been found to stabilize cell membranes, thus preventing toxic chemicals from entering the cell. Laboratory studies have also demonstrated that silymarin stimulates synthesis and activity of enzymes responsible for detoxification pathways and exhibits potent antioxidant properties. Specifically, silymarin has been shown to stimulate the glutathione S-transferase pathway and alter the intracellular concentration of glutathione (a potent antioxidant). Silymarin has also been shown to neutralize a wide range of free radicals.

Laboratory experiments conducted using cancer cell lines have suggested that silibinin enhances the efficacy of cisplatin and doxorubicin against ovarian and breast cancer cells. Silibinin appears to have direct anticancer effects against prostate, breast, and ectocervical tumor cells. Silibinin may also affect the cell cycle in cancer cells by slowing down cell growth, as demonstrated with prostate cancer cell lines. Laboratory studies using leukemia cell lines found that silibinin did not stimulate growth of leukemia cells.

No human clinical trials on Milk Thistle or silymarin as a cancer treatment or as an adjunctive therapy in individuals with cancer have been published. Most clinical trials have investigated silymarin's effectiveness in the treatment of patients with hepatitis, cirrhosis, or biliary disorders. These studies have employed a wide range of doses (120-560 mg/day) and have yielded conflicting results. Many of the well-designed, large-scale trials have reported a beneficial effect rather than no effect. The most commonly reported adverse effects are a mild laxative effect and gastrointestinal upset.
I recommend Wonder Laboratories for the overall best quality and price when considering vitamins, herbs and supplements.
---