Sleep Disorders
Page 1 of 8
Next
Sleep Disorders
Sleep Disorders Introduction
Causes of Sleep Disorders

Insomnia

Chronic Insomnia

Sleep Apnea

Narcolepsy

Restless Legs Syndrome (RLS)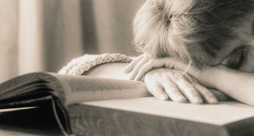 It is not unusual to have sleep troubles from time to time. But, if you feel that you do not get enough sleep or satisfying sleep, you may have insomnia, sleep apnea, restless legs syndrome, all sleep disorders. People with insomnia have one or more of the following:
difficulty falling asleep;

waking up often during the night and having trouble going back to sleep;

waking up too early in the morning;

unrefreshing sleep.
Insomnia can cause problems during the day, such as sleepiness, fatigue, difficulty concentrating, and irritability. A person with insomnia may also have another sleep disorder such as sleep apnea, narcolepsy, and restless legs syndrome.
Insomnia is not defined by the number of hours you sleep every night. The amount of sleep a person needs varies. While most people need between 7 and 8 hours of sleep a night, some people do well with less, and some need more.
About 60 million Americans each year suffer from insomnia, which can lead to serious sleep deficits and problems. Insomnia tends to increase with age and affects about 40 percent of women and 30 percent of men.
Chronic (long-term) insomnia is when a person has insomnia at least 3 nights a week for 1 month or longer. It can be caused by many things and often occurs along with other health problems. Common causes of chronic insomnia are depression, chronic stress, and pain or discomfort at night.

In people who have sleep apnea (also referred to as sleep-disordered breathing), breathing briefly stops or becomes very shallow during sleep. This change is caused by intermittent blocking of the upper airway, usually when the soft tissue in the rear of the throat collapses and partially or completely closes the airway. Each breathing stop typically lasts 10–20 seconds or more and may occur 20–30 times or more each sleeping hour.

Restless legs syndrome (RLS) causes an unpleasant prickling or tingling in the legs, especially in the calves, that is relieved by moving or massaging them. This sensation creates a need to stretch or move the legs to get rid of these uncomfortable or painful feelings. As a result, a person may have difficulty falling asleep and staying asleep. One or both legs may be affected. In some people, the sensations are also felt in the arms. These sensations can also occur with lying down or sitting for prolonged periods of time, such as while at a desk, riding in a car, or watching a movie.

Narcolepsy is a chronic neurological disorder caused by the brain's inability to regulate sleep-wake cycles normally.
Causes of Sleep Disorders
---
Next