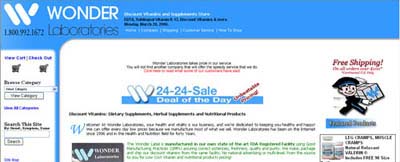 Wonder Labs, the Best and Least Expensive Place, That I Have Found to Buy Good Quality Vitamins.
Hi, my name is Jonathon Wilkinson, College Student at East Tennessee State University and Dietetics Major. I use Wonder Labs products. If you want to get the best bang for your buck then buy from Wonder Labs. I have used many companies but everything considered, Wonder Labs is the best overall value that I have found on the web, health food stores or anywhere. Comparing pill for pill Wonder Labs will come out less expensive most every time. Look for the Wonder Labs Label. These are the items that will be almost "unbelievable" in cost comparisons. Because they are a smaller company, less overhead and they are the Manufacturer, they can sell for less. Quality of what I have taken and used is excellent!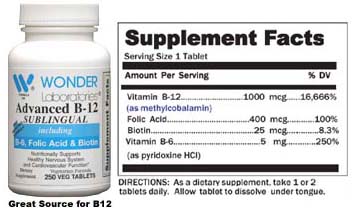 Sublingual Vitamin B12 comparable, from Wonder Laboratories.
STOP paying those outrageous prices for the same formulation of Sublingual B12 that you can get at Wonder Laboratories. Vitamin B12 is especially good for those of you on low meat intake diets, vegetarians and anyone needing more energy and vigor. This formulation is comparable and more than competitive with companies selling the same product with the same ingredients. Wonder Laboratories has the BEST price on Sublingual Vitamin B12 (and everything else), you can afford to take this one!







Empty Capsules and Capsule Making Machines,
Make them for yourself, your pet, etc. You can buy in bulk saving bucks and have what you need. Just a little effort in time.
Wonder's Vegetable and gelatin capsules disintegrate in the stomach in 2 to 3 minutes.
Occasionally it may take up to 5 minutes, but never more than 5 minutes.
Dissolving the capsules in water or vinegar is not a valid test.
How fast the capsules dissolve in the stomach is what matters.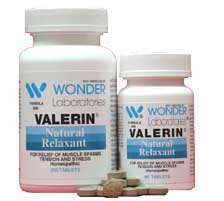 All Natural Relaxant,
I have tried this myself and it is as some have stated on their web site, "A God Send", for those of us that do not like to take drugs for every leg cramp, muscle aches, tension headache etc.
Use VALERIN® for Natural Relief Of: Muscle Spasms, Tension/Stress Headache, Low Back Pain, PMS/Menstrual Cramps, Tight Muscles, Back Sprain/Strain, Nervousness Leg Craps, Pulled Muscles, Neck/Shoulder Pain.
Each Tablet Contains:
6 parts Valerian Root (Quad-Strength) 1X
3 parts Passiflora (Quad-Strength) 1X
1 part Magnesium Carbonate (Quad-Strength) 1X



Some of the Other Top Selling Products at Wonderlabs That I use.
Lydia Pinkham Tablets, Wonder Labs , that old "A Baby in Every Bottle Remedy". Wonder Labs carries a large line of name brand protein drinks and shakes, topical cremes and rubs, Willards water etc.


Blue Berry Extract, Wonder Labs , the latest in antioxidant supplementation.


Cinnamon Bark Capsules, Wonder Labs , pure cinnamon extract for blood sugar control.


Omega-3 Fish Oil, Wonder Labs , incredible price on Omega 3 to help maintain a healthy cadriovascular function and mental functioning.


Milk Thistle, Wonder Labs , for healthy liver function and helps with hepatitis.



News
Travel East Tennessee
Appalachian Folk Medicines and Cures
Coming Soon!